Consistent heavy rainfall across the country over the last few days has triggered excessive floods, devastating standing rice crops, inundating homes and killing at least five people.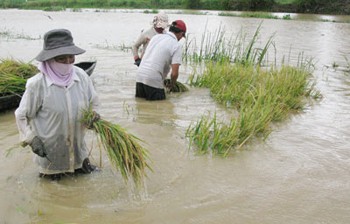 Farmers try to salvage whatever rice crop they can from flooded fields in Hai Lang District in Quang Tri Province (Photo: SGGP)
Prolonged downpours have quickly raised flood levels in rivers in the northern central provinces from Thanh Hoa to Ha Tinh. Water levels reached 6.63m at Kim Tan Station on Buoi River, 22.29m and 6.72m in Dua and Nam Dan stations on the Ca River.
The Flood and Storm Prevention Steering Committee in Nghe An Province said that heavy rains lasted throughout September 9-12 causing widespread inundation of areas. Three people reportedly died as they were swept away by floodwaters.
More than 400 houses have collapsed in the province and 4,361 hectares of rice crops, 2,867 hectares of corn and vegetables and 174 hectares of industrial trees are lying submerged under floodwaters. 5,110 cubic metres of soil has already been eroded from several roads.
Two people have been reported dead in Da The District of Lam Dong Province in the Central Highlands, with one being swept away and another being struck by lightening. The district has now over 180 houses submerged under floodwaters.
Cat Tien District meanwhile has reported 230 houses and 300 hectares of rice crops lying submerged and over 2,700 poultry having been swept away.
According to initial statistics from the agriculture and rural development departments in provinces lying between Nghe An and Thua Thien-Hue, the prolonged heavy rainfall in the past one week has inundated tens of thousands of hectares of rice crops which were waiting to be harvested. Farmers are struggling to reap the submerged rice crop.
Heavy rainfall to extend for next few days
According to the National Hydro Meteorological Forecasting Center, the low pressure trough, which continued to unleash heavy rains in the central and northern regions on September 12, is expected to cause more rainfall in the next 3-4 days.
By September 19-20, a new low pressure trough will take shape in the northern central region and a high pressure system will roll in from the north to bring about more heavy rainfall in the country.
Le Thanh Hai, deputy director of the centre says that torrential rain is still expected to occur in September at least on 3 or 4 more occasions and localities nationwide have been placed on alert to watch for severe deluge.
Tens of households in Tuy An District of Phu Yen Province also dipped themselves into flooded fields to harvest whatever rice they could salvage. According to local residents, the district saw small amounts of rain for the last few days, but at 9am on September 12, water levels in the Cai River abruptly surged by one meter, flooding entire rice fields.
About 40 hectares of mature rice has been inundated and the two hectares that had been harvested were swept away. According to locals, the cause was the irrigation reservoirs that released the floodwaters without informing farmers in advance. Such situations have prevailed often in past years.
140 houses in Ham Thuan Nam and Ham Tan District of Binh Thuan Province were inundated. 250 hectares of dragon fruit and hundreds of hectares of rice crops in the two districts suffered the same fate. The province still has rains and some riverside areas are still under deep floodwaters.
Floodwaters rising in Mekong Delta
Flood waters in the Mekong Delta have risen to 3.85m at Tan Chau Station on Tien River and 3.29m at Chau Doc Station on Hau River. The floodwaters will continue to surge in the upper reaches of the rivers.
Farmers in the Mekong Delta are in the first phase of harvesting their autumn-winter rice crop but are handicapped because of continuous rains and rapidly rising floodwaters. Rice harvesters are neutralized in flooded fields and as a result, labor prices have skyrocketed due to a scarcity.
Nguyen Long Hoai, head of the Irrigation Department in Ca Mau Province said that the rain and stormy weather over the last few days has created high surf waves, causing severe landslide along some dyke sections on September 12.

A two kilometre stretch of dyke has suffered serious erosion in Khanh Tien Commune of U Minh District. Sea waves have also swollen tens of kilometres of the dyke area in Dat Mui Commune of Ngoc Hien District.
Rainy conditions also prevail in many parts of the southern regions due to the progressive southwesterly monsoon.