Two days of heavy flooding has forced thousands of people in the central region to leave their homes for temporary shelters. Many homes are underwater and the torrid floodwaters are forecast to keep rising and submerge thousands more.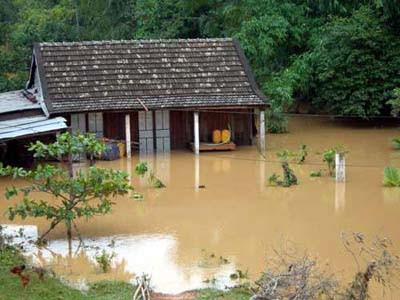 Heavy flood forces thousands of people in the central region to leave their homes

In Thua Thien Province yesterday, the Bach Dang River broke its banks and flooded hundreds of homes in the city of Hue, forcing the immediate evacuation of children and elderly people by boat to the local government building nearby.
More than 3,000 residents of Phong Dien and Phu Loc Districts were moved to higher ground and more than 13,000 boat dwellers given shelter in the local schools.
In Quang Dien District on Tuesday, the local authorities were making urgent plans to evacuate over 6,500 people from seven communes along the swollen and still rising Bo River.
In Quang Nam Province, severe landslides have blocked 27 different sections of the highway that runs through the six mountainous districts, leaving them isolated.
With only 23 tons of rice left in the province's storage depot, tens of thousands of people could go hungry if the lines of communication are not restored quickly.
It was only recently that the Quang Nam People's Committee asked the Vietnamese government for 1,500 tons of rice to be used in an emergency like the one now.
In the coastal city of Da Nang, heavy flooding has forced more than 14,000 school children to stay at home. Already 388 houses in Hoa Nhon Commune have been submerged, and a teacher in Hiep Duc District has been swept away by the raging floodwaters on his way home from school.
In Quang Tri Province, the floodwaters have submerged thousands of homes, destroyed hundreds of tons of unpicked crops in the field, and wrecked more than 50 fish ponds in Cam Hieu Commune.
In the highland province of Kon Tum, three communes in DaK Glei District were struck by a wave of mud and rock when the side of a mountain gave way and came rolling down. Debris weighing tens of thousands of tons is blocking the highway that connects Dak Ta and Ngoc Linh, isolating the three communes.
In Quang Ngai Province, the floodwaters have eaten away a sizable chunk of the Ve River's banks.
Across the region, the swollen rivers are forecast to keep rising and will almost certainly submerge thousands more homes and perhaps take more lives.