Two hours of heavy rain yesterday caused flooding in many streets throughout HCMC. Many streets in Tan Binh, Go Vap, Binh Thanh and Phu Nhuan districts and in District 12 saw flood levels rise to between 30 and 50cm.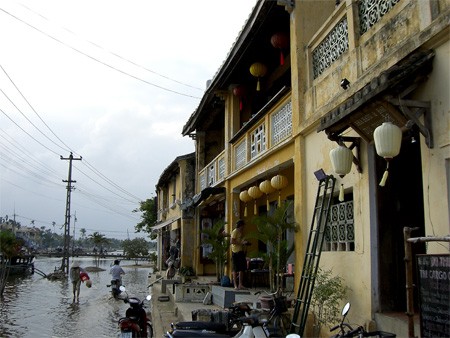 Flooded Streets of Hoi An after the heavy rain yesterday
Streets affected include: Hoang Van Thu, Hong Ha, Pho Quang, Phan Van Hon, Phan Huy Ich, March 26, Bach Dang Nguyen Huu Canh, Xo Viet Nghe Tinh, D2, Phan Dinh Phung and Nguyen Kiem.
 
The area worst affected was around Hoang Van Thu Park, causing serious traffic jams.
 
The two-hour long heavy rains also hit Ha Noi, where after a week of sunny, hot weather the drainage systems seemed useless to cope, causing flooding across the whole city. 
  
Many big trees in the city center fell in the strong winds. 
 
An hour-long flood caused traffic jams in many streets such as Ba Trieu, Ngo Thi Nham, Thai Ha, Le Duan and Tran Khat Chan, where hundreds of broken motorcycles lined the streets.
 
Yesterdays' rains caused the most serious flooding that Viet Nam has seen since the start of this year's rainy season.