Heavy rain occurred in many areas throughout the country Monday. Floods are reported to have submerged hundreds of houses in Ba Ria Province and caused severe congestion on Highway 51.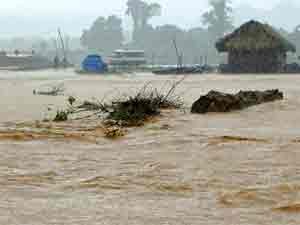 A street flooded with water
The monsoon affected many provinces in the North and Central regions. A low pressure trough, which remains in the region, caused heavy rain in many areas. Rainfall in many provinces was between 25-45mm.

Heavy rain occurred in many other areas throughout the country. In Ba Ria Province early Monday morning , a heavy and persistent rain poured down causing floods in many parts of the province.

Local people reported that at around 3 a.m., water began to cascade down Dinh Mountain, flooding hundreds of houses in the Lam Son, Phuoc Son and Hai Son Hamlets of Phuoc Hoa Commune located to the west of Highway 51. Immediately thereafter, the water flooded Phuoc Hoa and Tan Hai comunes where many houses, offices and warehouses were under 1.5m of water.

The floods began to congest Highway 51 between Phuoc Hoa and Tan Hai communes for hours at around 5 a.m.