The heavy downpour lasting entire Monday night, recorded the highest rainfall of 126mm causing severe flooding in several parts of Ho Chi Minh City.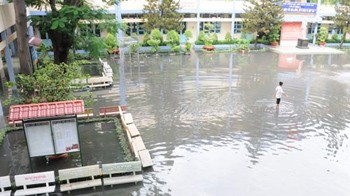 Tan Phu High School yard submerged in water on Tuesday afternoon (Photo: Tuoi Tre)
On Tuesday morning by 8 am, Le Thuc Hoach Street in Tan Phu District was completely flooded with rainwater, even though the downpour the night before had stopped by 2am. Many sections of the street were knee deep in floodwater bringing life for hundreds of households to a standstill.
Many persons who lived in rented rooms in Au Co and Luy Ban Bich Streets found their accommodations flooded. During the night, workers had to evacuate their premises and seek shelter in friends or relatives homes, as all sleeping quarters were completely flooded.
In Binh Thanh District, floodwaters blocked traffic on Ung Van Khiem, Nguyen Xi, D2 and D3 streets on Tuesday morning.
On Hanoi Highway in District 2, on the construction site of Rach Chiec Bridge floodwaters caused a traffic jam stretching along three kilometers.
Schools closed
Nguyen Thi Hieu Hanh, vice principle of Tan Phu High School said that the administrative area and six class rooms were fully inundated under 50cm's of water damaging documents and equipment in both areas.
She claimed that was the first time that the school had faced such serious flooding. About 3,000 students were unable to attend school on Tuesday.
Meanwhile, Nguyen Van Quynh, principle of the Vocational College of Transport No.3 said that the floodwaters flowed into their computer rooms and damaged the CPU units. The workshop area where students practiced was inundated causing damage to expensive electronic equipment worth about VND1billion (US$47,000).
Road depression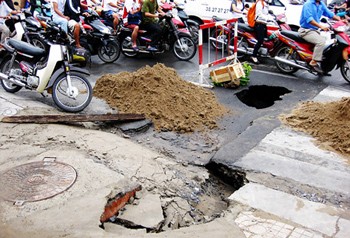 Depression at Vo Van Tan-Cach Mang Thang 8 crossroad in District 3 (Photo: SGGP)
The heavy rainfall caused depressions on roads in some parts.  At the crossroad of Vo Van Tan and Cach Mang Thang Tam in District 3, a 0.4 x 0.5 meter depression sunk the road causing a traffic jam for several hours.
The particular spot on the road was the responsibility of the city environmental hygiene project that repaired it 10 days ago.
Two other depressed spots on Dien Bien Phu-Le Quy Don crossroad in District 3 and on Le Thanh Ton-Ton Duc Thang crossroad in District 1 caused long traffic jams.
Drainage problem
According to Lecturer Ho Long Phi from the University of Technology, the city drainage system can only release a maximum of 85mm's of water while the Monday night rainfall averaged over 120mms. This clearly showed that the drainage system in the city was outdated.
Do Tan Long, head of the drainage system department of the Steering Center of the Urban Flood Control Program in HCMC said that the heavy rainfall caused flooding of 41 roads in the city.  Tan Phu District was the worst hit district with 13 of its roads badly submerged in water.
The flooding worsened with the presence of construction sites of the urban improvement and environmental hygiene projects, which blocked the rainwater from draining. Sixty-four areas faced flooding due to ongoing flood prevention projects.
Mr. Long said that the center, the city authorities had reminded and instructed execution units several times of this hazard; however, no heed was given to the issue.
Related article:
Night downpour brings relief from city muggy weather