The end of Typhoon Mirinae is nearing, with rainfall sharply reduced and floods receding in the central region on November 5 . Residents and local authorities are rushing to overcome damage caused after storms and floods.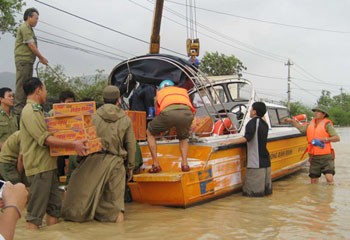 The army delivers instant noodles to flood victims in Dinh Dinh Province on November 5 (Photo: SGGP)
According to the Flood and Storm Prevention Center for the Central and Central Highlands regions, heavy rainfalls in the southern Central provinces have slowed. Some other areas in the region, however, still see medium to heavy showers.
Flood levels on rivers in the Central region and south Central Highlands reached a peak and have lowered to Levels 1-2.
 
Typhoon Mirinae hit the central region on November 2, bringing heavy rains and floods that left 98 people dead, 20 missing and 66 injured.
Phu Yen Province saw the highest number of deaths with 69, followed by Binh Dinh Province with 13 and Khanh Hoa Province 12.
Around 1,130 houses were destroyed, with 15,283 others losing their roofs and 43,715 others still inundated with water.
Related articles:
Central Vietnam counts flood damage
At least 90 die in Vietnam floods: officials
35 dead, nine missing in central Vietnam floods
Typhoon Mirinae hits central Vietnam