Continuous heavy rainfall across the Mekong Delta has sent the prices of vegetables skyrocketing as well as a scarcity in supplies of many varieties.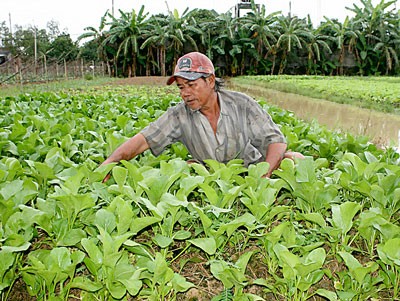 A farmer harvests vegetables in Binh Minh District in Vinh Long Province (Photo: SGGP)
Vegetable prices have suddenly shot up in large markets in Vinh Long and Bac Lieu Provinces and in Can Tho City over the last few days.
Lettuce has hiked by VND10,000 a kilogram while creeping spinach, mustard greens and celery cabbage have gone up by VND15,000-16,000 a kilogram.
The price of spring onion has doubled to VND20,000 a kilogram.
Nguyen Van Lanh, a trader in Tan An Market in Ninh Kieu District of Can Tho City, said that vegetable prices are increasing but there is less or no supply.
Farmers in Binh Minh District in Vinh Long Province, the largest vegetable cultivated area in the Mekong Delta, are rushing to harvest their vegetables and are very happy because the prices have surged to such high and unheard of levels.
Farmer Nguyen Thanh Phong in the same district said that vegetable prices usually go up at this time each year, but this time the prices have been the highest ever.
Phong has sold a kilogram of watercress for VND27,000-28,000, five times higher than the price at the beginning of the year. However there are no more vegetables left to sell in the district.
The economic department in Binh Minh District said that farmers cultivated more than 2,735 hectares of vegetables since the beginning of the year. The area yet to be harvested is only 300 hectares.
Bac Lieu City farmed 3,522 hectares, yielding an output of 42,000 tons in the first nine months of the year. But the vegetable supply is running out.
High tide has surged and burst some dyke sections in Soc Trang Province, inundating tens of hectares of vegetables.
The scarcity of vegetables in the Mekong Delta has caused vegetable prices to increase in HCMC. Prices are expected to go down by the end of November when the flooding season is over and farmers begin to plant new crops in the delta.