After three months working hard on paddy fields, farmers in the Mekong Delta are now facing the risk of huge losses due to heavy and continuous rains. Hundreds of waterlogged hectares of crops, coupled with the severe shortage of rice dryers, have drastically put up the prices paid to hired hands.

Yesterday morning, despite raining heavily, local farmers still flocked to the fields to harvest the ripe crops in a rush. Vast areas of paddies were submerged in rain water.

Since the total number of combine harvesters in the region can only meet 15 percent of the total sown areas, farmers had no choice but to hire hands to help them with the harvest.

During the past week, the pay to day-laborers has increased from VND125,000 to 180,000 per 1,000 square meters, and even to VND 250,000 in the event rice is submerged in water.

A local farmer said, "I have to pay some VND2,500,000 for ten reapers a day to harvest my four hectares of rice, which have gone under water.

"But even when the rice has already been harvested," he said, "we local farmers still face other worries."

He pointed out that it is really hard for farmers to sell the rice in one or two days. And if they cannot do so, the rice will be colored and the selling price will fall.

He added, "But what worries us most is that the wet rice will sprout shoots. In such a case, the only thing we can do is to sell the rice to cattle-feed or poultry-feed manufacturers."

Along both sides of Highway 30, which links the suburb of Cao Lanh Town with Hong Ngu District, Dong Thap Province, farmers were found heaping their rice on plastic sheets for drying. Many of them also dried the rice on the street.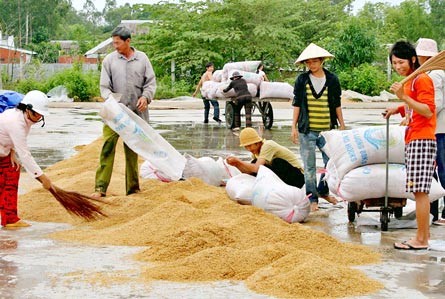 Farmers dry their rice on the street
Not many farmers in the delta have a drying ground of their own.

At the drying ground of Thanh Binh Agricultural Product Center, farmers transported more than 400 tons of rice to the site for drying.

Farmer Phan Van Hau, resident of Tan Phu Commune, Thanh Binh District, lamented, "It costs me VND3 million to transport 15 tons of rice to the center for drying. Although dried for four days in a row, the rice is not completely dry. Some of it has sprouted shoots."

The harmful effects would have been lightened if the delta had adequate numbers of rice dryers.

At present, the whole region has only some 6,500 rice dryers with a capacity of between four to eight tons, meeting around 30 percent of the farmers' demand.

In Dong Thap, An Giang and Kien Giang Provinces, farmers who wish to have their rice dried by rice dryers have to register a few days or even a few weeks in advance.

The drying price is relatively high, from VND180,000 to VND200,000 a ton.

Duong Nghia Quoc, deputy director of the Dong Thap Province Department for Agricultural and Rural Development said, "Local farmers have now harvested some 195,000 hectares of rice. All of it is wet and needs drying, but the whole province has only some 700 rice dryers, with a capacity between four and five tons a batch. "

"Not many businesses think about investing in building rice dryers. Though requiring high investment costs, dryers can be used for summer-autumn crops. It is very hard for investors to get back their investment," he added.