Salt intrusion has occurred early this year and more severely in several areas in Soc Trang Province in the Mekong Delta, destroying hundreds of hectares of spring-summer rice crop and further threatening thousands of hectares.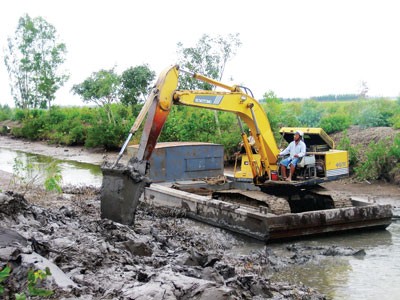 A canal being dredged to reduce salt intrusion in Long Phu District of Soc Trang Province (Photo: SGGP)
Long Phu and Tran De are the two worst hit districts in Soc Trang Province.
Kim Moi, a farmer in Long Phu Commune in Long Phu District, said that the one-month-old spring-summer rice crop had become stunted and gradually withered from high salinity.
Nguyen Van Thanh, from the same commune, lamented that he has waited for salinity to reduce for the last one month to pump water to his dry rice fields, but in vain. If there is no rain in the next few days, his 3.5 hectare rice field will be totally destroyed.
Kim Chi Thien, deputy chairman of the People's Committee of Long Phu Commune, said that early salt intrusion together with drought has destroyed 280 hectares of spring-summer rice crop and this may increase further across remaining 3,000 hectares.
The People's Committee in Long Phu District is concerned that rice output will fall by 20-50 percent in the spring-summer rice crop due to heavy salt penetration.
The district had warned farmers to seed only 7,000 hectares this crop season but they have cultivated more than 15,000 hectares. High salinity has forced the district to close all irrigation gates to hold salt water back while canals are lying depleted.
According to the Department of Agriculture and Rural Development in Soc Trang Province, salt intrusion has occurred one month earlier than normal with higher salinity this year.
By mid February, salinity level measured 21.2 per thousand in Tran De District, up by 6.3 per thousand over the same period last year and 5.9 per thousand in Long Phu District, up 4.5 per thousand.
Quach Van Nam, director of the Department of Agriculture and Rural Development, said that local authorities and residents are waiting for salinity to reduce to pump water to their withered rice fields and are dredging canals to cope with the heavy salt intrusion.