Heavy storms have caused serious damage to areas in Thai Nguyen Province on May 17.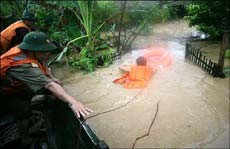 A rescue team have been mobilised to evacuate households from areas vulnerable in Tuyen Quang Province.
Many main roads in the center of Thai Nguyen City were flooded one meter under water. Many households were also flooded, with roofs being blown away, damaging 300 houses.
Storm damage was estimated around VND5 billion (US$285,000).
The storm swept away one woman in Dinh Hoa District and caused flooding in rice fields.
The chairman of Nho Quan –Ninh Binh Province People's Committee said heavy rains over low-lying areas suffered from severe floods, with damaged estimated to be around VND34 billion ($1.9 million).
In total, 4,100 hectares of winter- spring crops, out of was 13,500, in Nho Quan District were flooded.
The storm also caused damage to roads and dykes.
The local militia has been called-up to support residents.
A soldier, Bui Duy Chien, was killed while helping residents to save rice during the floods.