Vietnam Association of Victims of Agent Orange/Dioxin or VAVA has called Vietnamese and people around the world to give a hand to Dioxin's victims.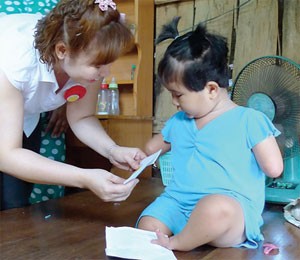 A businesswoman offers gifts to three- year-old Nguyen Hoai Thuong, a victim of Agent Orange/Dioxin in Cu Chi District, HCMC (Photo: Quang Thai)
The call, which marks the 50th Commemoration of Agent Orange (AO), reminds people of the catastrophic day, August 10, 1961 when aircrafts of US Air Force first sprayed the toxic herbicide over South Vietnam.
August 10 is such a terrible memory to Vietnamese people. The spraying of AO through ten years after that dramatically destroyed the habitat, ecosystem and especially health of Vietnamese people.
More than three million hectares of forest and field, 26.000 villages and hamlets were badly poisoned by this toxic chemical. About three million Vietnamese were victims of the spraying and a great number of people died in unbearable sufferings.
Although the War ended 36 years ago and Vietnam has revived gradually, the pains suffered by many families still do not burn out. Thousands of children were born deformed. A considerable number of women do not know the feeling of being a wife or a mother. Several people are confronting with diabolical agonies caused by Agent Orange/Dioxin day by day. Although these families are supported by many domestic and foreign organizations, they are still the most destitute people in the society.
VAVA has sent out urgent requests asking generous donators around the world to support the campaign "For victims of Agent Orange". The association also expects American, especially two producers of AO Dow Chemicals Corporate and Monsanto Company, to courageously admit their faults and fulfill their responsibility over the Agent Orange/Dioxin damage.
To assist the Agent Orange/Dioxin victims in Vietnam and victims of all the chemical weapons means to contribute to preserve justice and peace on the earth.
Please send all donations for Vietnamese victims of Agent Orange/Dioxin to:
Funds for Vietnamese victims of Agent Orange/Dioxin:
Domestic account number (VND): 00311.0123.4005, Military Commercial Joint- Stock Bank, Thanh Xuan branch, Hanoi.
Foreign account number (VND): 00110.0086.3681, foreign account number (US$): 00113.7086.3710, foreign account number (EUR): 00111.4086.3770, Exchange Department, Joint Stock Commercial Bank for Foreign Trade of Vietnam.
Vietnam Association of Victims of Agent Orange/Dioxin, 35 Ho Me Tri, Nhan Chinh ward, Thanh Xuan District, Hanoi.
Related stories: