A recent project approved by Prime Minister Nguyen Tan Dung to assist 250,000 physically impaired workers to receive vocational training and be provided with suitable jobs by 2015 also calls for cooperation from society at all levels to support the cause and make it a success.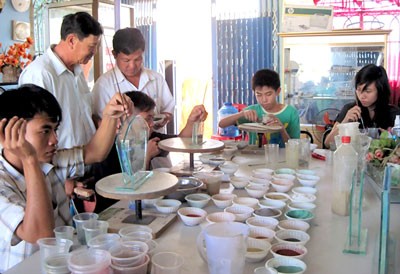 Disabled people making sand pictures in a company (Photo: SGGP)
As most disabled people suffer bad health and shoddy workmanship by them is unacceptable to enterprises, employment is difficult for such handicapped people and also for the implementation of this project.
According to a report by the Charitable Center for Training and Jobs for the Handicapped in Ho Chi Minh City, more than 800 physically impaired people have been given jobs since the beginning of the year and 800 others received training in sewing, motorbike repair, electronics and make up.
 
HCMC has around 15,000 disabled people of working age, accounting for 1 percent of the population. However, only 40 percent are employed and 25 percent of the employed have stable jobs. The explanation for this is the unsuitable working environment with physically impaired people and low income to make ends meet.
 
Some enterprises such as 27/7 in Binh Tan District; Dien Quang and Anh Sang Electricity are willing to recruit disabled people but the government policies don't favor enterprises who give employment to such workers.
Le Thi Cam from 27/7 Company said her company has employed physically impaired people since it established and some tried their best to work while others lost heart, hence the government should support such enterprises with favorable  tax policies.
 
Nguyen Thi Nhung, deputy director of the center, said society and community should pay more attention to disabled people by providing the center and enterprises with suitable equipment for vocational training and working to help disabled people integrate in the community.
 
Employment of such disadvantaged people should not be considered a charitable deed but a benefit for enterprises and society. Accordingly, they need equal treatment. This requires cooperation between all related agencies and sectors to help such unfortunate people.
Related article:
PM calls for social contribution to create jobs for disabled people