Yesterday, General Secretary Nong Duc Manh and Prime Minister Nguyen Tan Dung sent a message to ask the local authorities to help the residents to overcome difficulties in the aftermath of severe storms and heavy flooding.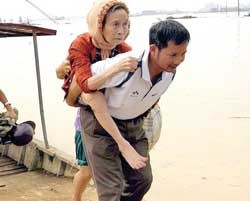 Helping the old to the safe place
In the message, the General Secretary sent his regards to the affected families in the southern and central southern provinces. These provinces included Quang Binh, Ha Tinh, Nghe An, Quang Tri, Thanh Hoa and Ninh Binh. He also conveyed that he hopes all of them will try their best to overcome the distress and difficulties created by the disaster.
He suggested that local authorities immediately plan effective prevention methods and response procedures for the next storm. Strategies like moving the residents to the safe places and help them continue their work and studies were suggested.
Mr. Nong Duc Manh also mentioned the possibility of epidemic diseases that may appear after severe flooding. He cautioned authorities that a disease management plan should be in place to control it.
He reinforced that this year's situation of storms and flooding has been complicated and difficult. He urged locals to cooperate well with the relevant departments for the effective preparations. Communication and traffic also have to be operated well in each location, he affirmed.
Prime Minister Nguyen Tan Dung asked the chairmen of the People's Committees of the two provinces Thanh Hoa and Nghe An to use the national forces to repair and reinforce the embankments along Ma and Ca rivers. The Central Committee for Flood and Storm Control and the National Rescue Committee are assigned by the Prime Minister to take part in the local emergencies when necessary.
Showing his concern for the residents in the flooded areas, PM Nguyen Tan Dung emphasized that local authorities have to supply food to the people, not leaving anyone living in hunger.
The relevant parties including the Ministry of Agriculture and Rural Development, the Minstry of Trade and Industry, the Ministry of Transportation, the Ministry of Health and the Ministry of Labor, Invalids and Social Affairs are required to send their teams to the areas affected to help and implement suitable planning procedures.
On the same day, the presidium of Vietnam Fatherland Front Central Committee sent a message to the people involved and donated VND2 million (US$130) to each victim, and an additional VND1million (US$65) to each person injured. The Committee gave each province of Nghe An and Thanh Hoa VND100 million (US$6,300) as a contribution to the rebuilding of the areas.
Related Articles:
Relief Aid Comes to Central Viet Nam
Lekima Leaves a Trail of Destruction
Typhoon Kills 5, Injures 1
Typhoon Lekima Hits Central Provinces
Evacuation Must Finish Before 12 PM: Deputy PM
Nation Gets Ready to Face Typhoon Lekima