A herd of wild elephants in a forest in Ea Le Commune of Ea Sup District in the highland province of Dak Lak went berserk on October 27, killing one police officer on the spot.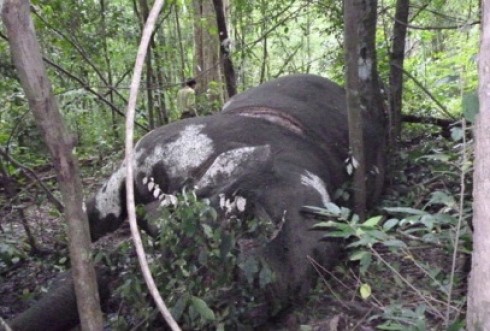 One of the two wild elephants that were found dead in Yok Don National Park in August
According to Huynh Trung Luan, director of the Dak Lak Elephant Conservation Center, 42-year-old Cao Quang Canh, a police officer in Ea Le Commune, had gone into the forest with two companions, Cao Xuan Chien and Cao Xuan Dong, to dig up apricot tree saplings to take back home.
When the three men were in the midst of the forest in subzone 276 in Ya T'Mot Commune, which is managed by the Hai Ha Company, a herd of 20 wild elephants spotted them and grew agitated on seeing the men so close. Sensing some sort of danger, the elephants   charged towards the three men and knocked down one instantly, killing him on the spot.
Because of the darkness and very short distance from the elephants, Cao Quang Canh was unable to run fast enough though his companions managed to escape.
According to Luan, in August two elephants of this herd were killed   by poachers in Yok Don National Park, located in Buon Don and Ea Sup Districts of Dak Lak Province.
After the killing of their two mates, the herd has been camping in the forest in Ia R've and Ya T'Mot Communes, and often shows signs of panic and fear.
After this incident, local residents have been warned of the danger of confrontation with this particular herd of elephants.