The High Command of Navy received the HQ 182-Hanoi submarine at Cam Ranh Port, Khanh Hoa Province on January 15.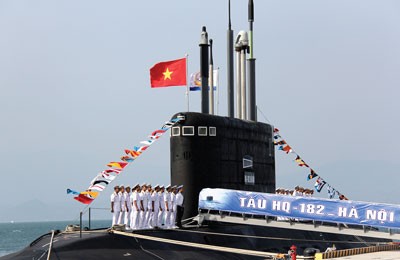 The national flag and the Navy flag fly on the control tower of the HQ-182 Hanoi Submarine.
The event marks the anniversary of the first step of the development of modern submarine technology in the Vietnamese Navy.
The submarine was renamed Kilo-636.  It was sent to the Brigade 189 in the Cam Ranh Base after a two-week inspection.
The event celebrates the Party Central Committee's Central Military Commission, Party, State, and Ministry of National Defense's ability to rebuild and protect sovereignty over sea and islands of the country.