During a recent countrywide food safety check, a team of inspectors from the Ministry of Health found traces of harmful substances such as formaldehyde, borax and banned coloring agents in a number of food items.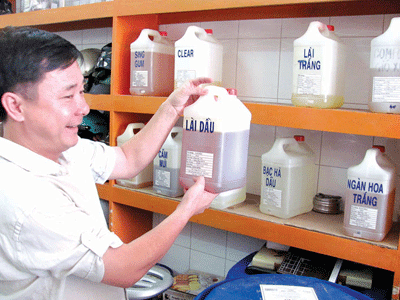 A man selling an assortment of chemical additives to flavor food, in Kim Bien Market (Photo: SGGP)
They found formaldehyde, also called formol, in fresh vermicelli and vegetarian items; and banned coloring agents in sour sprouts, banana flowers, areca, melon seeds and various confectionery items, some of the most common food items during Tet Lunar New Year.

Added proportions of the above items far exceeded permissible limits by 20- 40 percent.

In Dong Xuan Market in Hanoi, flavoring chemical substances used in confectionary were displayed along streets, with no expiry date or manufacturing labels.
When a customer asked for a sweet smelling flavor for cakes, a shop assistant presented a plastic container marked with a Chinese script,  saying that it was popular with most   customers.

Dubious and unsafe additives that can make drinking water into a delicious soft drink or make fruit juices highly palatable are sold in plentiful in Hang Ba Market in Hanoi as well as in Kim Bien Market in Ho Chi Minh City's District 5.

The additives come in many flavors like orange, lime, grape, strawberry, coffee, chocolate, beef and seafood. Market vendors say that additives make a drink or broth even tastier and are much cheaper than traditional flavors in broth, like adding bone stock.
The shop assistant instructed adding one spoon of the liquid chemical over 10 kilograms of Chinese sausage, to keep the food from rotting.
Without using additives, the profits will not be so high and the food will not be tasty enough to lure customers, said one shop owner to a customer. She said a liter of an unidentified chemical additive costing VND250,000 (US$11.9) can cook 100 kg of beef rice noodles.

Out of 299 food samples taken, health authorities found that 42 failed to meet safety standards; 33 percent of chilli powder and melon seeds contained high levels of Rhodamine B, a harmful coloring agent, and 20 percent of soy sauce had MCPD, an organic chemical compound which is carcinogenic and suspected to be genotoxic for humans.

Only 5 percent of additives are made by Vietnamese companies while Chinese products constitute 30 percent. Around 191,919 tons of additives have been imported into the country and health authorities announced that 1,251 tons of imported additives failed to meet national safety standards.

Health agencies cannot control smuggled additives and this is a real threat to people, said Nguyen Thanh Phong, deputy chief of the Vietnam Food Administration (VFA) under the Ministry of Health.
Medical experts believe the government must tighten control on import of additives. Market managers should be given more powers to penalize shops selling unsafe chemicals.


Market management teams raided the house of Nguyen Duy Tam in Thanh Oai District in Hanoi on Wednesday to uncover 2 freezers stuffed with 30 tons of oxen meat that had turned putrid.
The owner was unable to produce legal documents to verify its origin. Tam said he had collected the meat from slaughterhouses in the district.
Last year, more than 4,800 people were rushed to hospitals in 105 food poisoning cases across the country, in which 17 people are said to have died.