On the last day of their official visit to Laos on June 29, the high ranking delegation led by Mr. Le Thanh Hai, secretary of the Ho Chi Minh City Party Committee paid a visit to Champasak Province.
Mr. Sonsay Siphandon, Governor of Champasak Province and member of the Lao Revolutionary People's Party Committee, welcomed the delegation.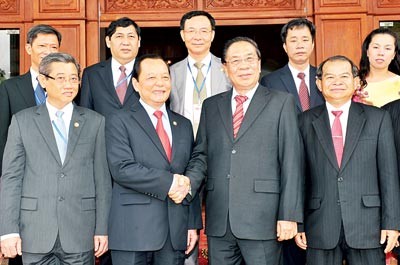 General Secretary and President of the Lao PDR Choummaly Saynhasone ( 3, Left ) welcomes HCM City Party Committee Secretary Le Thanh Hai ( 2, Left ) and other city leaders. (Photo: SGGP)
Mr. Le Thanh Hai expressed his joy at visiting Champasak Province and said that this time HCMC had sent the largest delegation ever to visit Laos, of about 150 people, including businessmen, artists and athletes. This showed the determination of the Party and people of HCMC to strengthen and develop cooperation between the City and Champasak Province, as well as contribute towards strengthening of the traditional friendship, special solidarity and comprehensive cooperation between Vietnam and Laos.
Mr. Sonsay Siphandon expressed his deep respects for the activities conducted by the HCMC delegation in Champasak Province.
During the talks between the two leaders, both sides recognized that the special friendship between Vietnam and Laos, including between Champasak Province and Ho Chi Minh City had developed in all fields, particularly in socio-economic relations.
To date, the City's investment in Champasak Province had brought in more progress, income and employment for workers of both the countries.
Recently, HCMC supported 113 Champasak students to study in colleges in Ho Chi Minh City and the HCMC Youth Union organized volunteer training courses, free medical examination and medicines for the poor, donated houses, carried out cultural exchanges and sports activities in Champasak Province.
Mr. Le Thanh Hai said that cooperation between the two territories was developing in the right direction and for the mutual benefit of both countries.
However, both sides agreed that there was still vast untapped potential and that they should continue to organize events to introduce new products, new projects, and call for more investments and carry out regular exchanges in sports, cultural events, tourism and also create a direct route from Pakse to Ho Chi Minh City.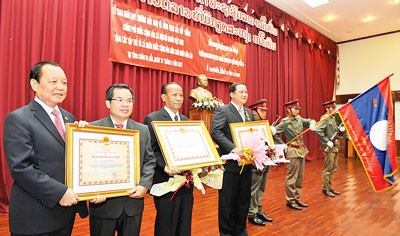 HCM City Party Committee Secretary Le Thanh Hai ( 1st, L) awards Medal of Friendship to a number of Champasak province leaders(Photo: SGGP)
The two sides also promised to actively expand Youth League Exchanges and propagate traditional friendship, solidarity and comprehensive cooperation between Vietnam and Laos and HCMC and Champasak.
The two countries are committed to actively remove obstacles for businesses invested in Champasak Province in terms of land prices, labor, legal procedures and infrastructure.
Champasak leaders promised that the province would continue to hold Lao language training for officials and employees of HCMC.
The two delegations then attended the opening of "HCMC Day in Champasak." In the solemn atmosphere of the ceremony, Mr. Le Thanh Hai delivered a speech in which he referred to words of the late Laos President Cayson Phomvihan on the special relationship between Vietnam and Laos. "History of world revolution has witnessed many brilliant examples of proletarian internationalism, but nowhere and in no time ever has there been such a unified combat coalition and long-term comprehensive special relationship as Laos and Vietnam".
For half a century, the love and unity binding Vietnam and Laos brought about by the joint efforts of late President Ho Chi Minh and President Cayson Phomvihan have been constantly forged, in a bright spirit and becoming an invaluable asset for two Parties, two States and two People, said Mr. Hai.
Mr. Hai also added that HCMC would do its utmost to strengthen relations with Champasak Province in particular and Laos in general.
On this occasion, the HCMC delegation also visited comrade Khamtay Siphandon, former Chairman of the Lao PDR at his home.