According to Prof. Dr. Cao Dinh Trieu from the Vietnam Union of Science and Technology Associations (VUSTA), the central province of Quang Nam might experience earthquakes measuring upto 6 on the Richter scale in areas around the Song Tranh 2 Hydropower Plant in Bac Tra My District.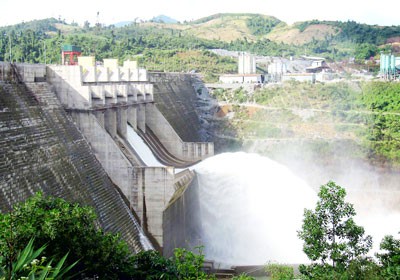 Quakes in Bac Tra My District might increase in intensity (Photo: SGGP)
Dr. Trieu and seven other leading scientists of Vietnam from fields such as geology, hydroelectricity and dynamics have just concluded independent studies on the project 'Estimation of earthquakes in Song Tranh 2 Hydropower Plant and measures to mitigate damage.'
Study results of the project were widely announced to top scientists around the country on October 3.
Accordingly, the Song Tranh 2 Hydropower Plant is located in an area on the Tra My fault line and therefore earthquakes will directly affect the plant's reservoir and dam.
Quakes caused by water accumulation at the plant's reservoir will occur along this fault line as well as other fault lines in surrounding areas.
Dr. Trieu said that earthquakes of upto a maximum intensity of 6 on the Richter scale will affect the hydropower plant area with hypocenters below 15 kilometers of ground level.
The plant's reservoir and main dam might see 5.9 magnitude quakes while the lower reaches of the plant might undergo 6.1 magnitude quakes.
Besides, the geology around the plant area mostly comprises of bright colored granite, which has been crushed. This poses a high danger of landslides which might occur and subsequently affect the dam, fill up the reservoir and block the water current.
Scientists studying this project thus proposed to the Government and the investor of Song Tranh 2 Hydropower Plant to conduct further studies on earthquakes in Bac Tra My District, and install a quake observation system to be able to record quakes of all levels of intensity.
The water level in the reservoir should not rapidly fluctuate as this has proved to cause geological changes and trigger earthquakes.
Other signs of cracks, depressions and landslides should be watched out for and the plant's dam must be closely monitored for timely alert.
Relevant authorities should raise awareness in those living in the vicinity of the plant on phenomena like earthquakes and other geological natural occurrences.
At the meeting, some scientists said that the above report has made clear that the earthquakes are being caused by water accumulation but has not yet assured of safety to the Song Tranh 2 Hydropower Plant.
Besides, the report has only referred to the Tra My fault line and made no mention or study of nearby fault lines of Hung Nhuong-Ta Vi and Tra Bong, which might affect the Song Tranh 2 plant also.

Related articles:
Song Tranh Hydropower Plant prepares for dam breach
Deputy PM surveys quake-hit Bac Tra My District
Expersts assure safety of water-leaking hydropower plant dam