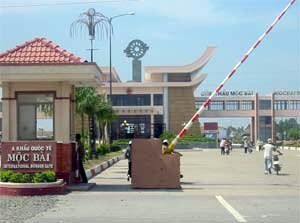 Moc Bai Border Gate in the southern province of Tay Ninh (Photo:TK)
Three national border crossings between Viet Nam and Cambodia are to be upgraded to international level, and three secondary ones to national level.
Two of the new international crossings are in the south: Dinh Ba in Dong Thap and Xa Xia in Kien Giang, while the third is Le Thanh in the central highlands' province of Gia Lai.
The new national crossings are Dak Rue in Dak Lak, My Quy Tay in Long An and Giang Thanh in Kien Giang.
In his written decision authorizing the changes, the Prime Minister says the aim is to boost trade and tourism, particularly by encouraging more foreigners to enter Viet Nam from Cambodia.