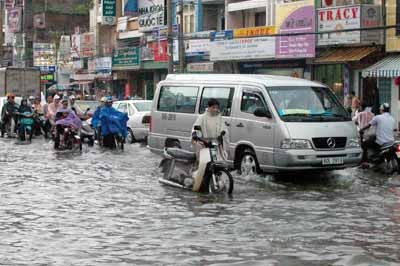 Ho Chi Minh City residents wade through the flooded roads in Binh Chanh District on Sunday afternoon.
Ho Chi Minh City had its highest tide in 47 years on Sunday and the outlook is for even higher levels in the days ahead.
With the Sai Gon River reaching 1.48 meters on Sunday and likely to hit 1.5 meters at 7 pm on Tuesday, the authorities have begun warning residents about possible flooding.
Five days of higher and higher tides have caused problems. In Binh Chanh District, the water has breached eight kilometers of dyke, flooded some main roads for hours on end, and submerged cropland to a depth of 30 cm in places.
In Nha Be District, the high water has disrupted fish farming, eroded riverbanks and caused property loss estimated at VND50 million.
District 12 has also been flooded after the river channels breached and severely damaged many dykes in the area, but no other damage has been reported, not yet at least.