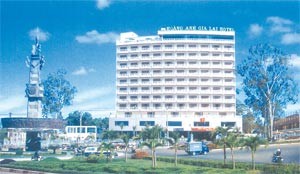 Hoang Anh Gia Lai Group's 12-story hotel in Pleiku
Gia Lai province no longer conjures up an image of cold and gloom as it might have just four years ago.

In the capital, Pleiku, there are dozens of thriving shops and restaurants along the city's crowded streets and the market at the corner of Le Lai and Nguyen Thien Thuat streets is packed with shoppers throughout the day.
Attracted by the highland province, Vu Sy Nam, general director of the Nha Be Garment Joint-Stock Company, decided to build a US$3.1 million factory on four hectares at the edge of town.
That factory now employs 500 young people from the ethnic minorities that inhabit the area. One such employee is Ms. Rocham Siu of the Bana people.
"At first, I was very scared of the sound of the sewing machine. But now I can use it easily," the 19-year-old says with a wide grin.
In fact most of the ethnic workers had trouble using the machines for the first time, but now they are adept handlers and make more than US$60 a month.
Local investment
Back in 1990, Hoang Anh Gia Lai was a small furniture maker on the outskirts of Pleiku with 200 employees and annual sales of US$12.5 million, certainly not the major manufacturing concern it is these days.
A big change to the group's fortunes came in 2002, when the company's chairman, Doan Nguyen Duc, decided to buy the well-known Thai footballer Kiatisak, who was dubbed the "Zico of Thailand".
The investment repaid itself many times over as Kiatisak's goals helped the Hoang Anh Gia Lai Club become one of the best in the country.
Signing up the footballer was a wise move by Chairman Duc, a good example of what he calls his "entertainment pertains to business" strategy.
In 2003, the group surprised the local business community by branching out into dozens of fields.
Doan Nguyen Duc's decision to expand his scope of business was prompted by the open policies of the Gia Lai People's Committee, who seemed to have the province's best interests at heart.
Because of these policies, there is now a modern 12-floor hotel and a huge football stadium on the slopes of Ham Rong Mountain. 
In addition, the company will use US$12.5 million to upgrade a granite factory and a furniture and plastic factory in Gia Lai, and a swank 20-floor building and a hi-tech private hospital in Pleiku are on the horizon.
There's no denying that the performance of the Hoang Anh Gia Lai Group is a major factor in turning the once-poor Gia Lai into a zone of prosperity.