Having hundreds of cars and villas each worth billions of Vietnamese dong, residents in Nam N'Jang Commune of Dac Song District in the Highlands Province of Dak Nong are famous for their wealth and the commune is named "the commune of billionaires".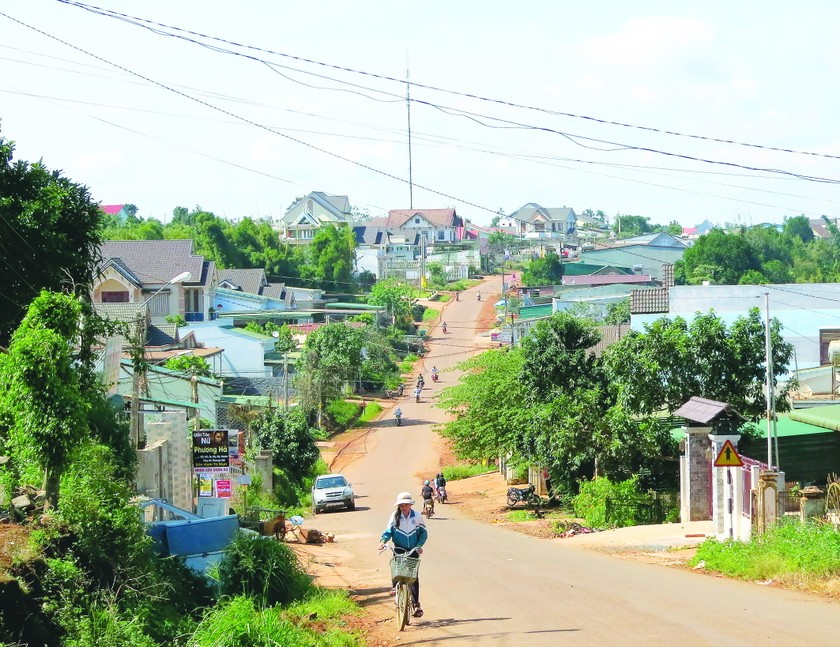 The road leads to the commune (Photo: SGGP)
Tens years ago, Nam N'Jang, a poor commune, was surrounded by mountains. Residents faced variety of difficulties yet lately the commune has changed its look thanks to planting pepper. The commune Party Secretary Nguyen Van Sang eagerly said that at present, residents bought over 200 cars each worth from VND500 million to VND2 billion.

Even one household has two or three cars. hundreds of villas were built at the price of some billions of Vietnamese dong, Sang added.

That's true. Along streets from the village No.3 to the People's Committee are many eye-catching houses with modern designs. Locals said that Vo Khuan's house costs most with VND12 billion ($531,460). Khuan has the 100 hectare land for growing pepper with productivity of 450 tons a year.

Selling the agricultural produce at current price, Khuan gains profit of VND80 billion yearly. Sang said Khuan is the quintessential example of escaping the poverty thanks to pepper in the commune.

Visiting 66 year old Nguyen Thanh Tinh who has just bough the third cars and built the house worth billions, he said that his six children all work in pepper farming and each was given 5 hectare land for growing pepper when they got married.

Chairman of the commune People's Committee Nguyen Huu Tam said that the commune has changed its look lately because locals are hard-working on pepper farming which produces stable income; accordingly their lives improved a lot. Rich people donated money building roads and bridges voluntarily.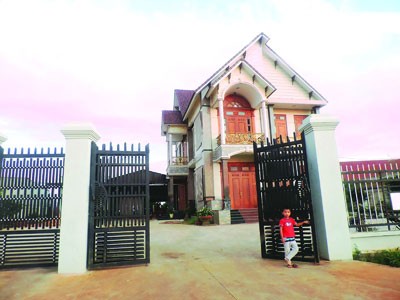 A house is worth billions in the commune (Photo: SGGP)
Farmers can good money from growing pepper; therefore, locals in Dak Nong Province expanded the pepper farm yet Nam N'Jang has the highest productivity thanks to favorable weather and good soil.
While farmers in others districts suffered losses for the crop 2015-2016 because of drought, their counterparts in Nam N'Jang did not.
Furthermore, farmers in Nam N'Jang pioneered in using alive trees as poles which the plant will grow on. Farmer Nguyen Thanh Trung in Dak Quanh village said that he spent just VND3,000 building a pole which will be used forever.

For instance he used kapok trees as poles for 15 hectare land; the productivity in his farm is 18-20 tons per year gaining income of VND3billion ($132,930). Local farmers flocked to his house learning the method to follow because cost of such poles are cheaper than cement or wooden poles.

Lately, pepper has been sold at high price of VND170,000-200,000 per kilogram yet the plant is susceptible to diseases so planting faces high mishap; as many as farmers in the highlands provinces ended up with none or worse, they fell into debt after years growing the plant.
Accordingly to support farmers in the commune, Party Secretary Phan Van Hop said,  the government will dredge and build irrigation work to ensure water source in hot weather for long-term growth.