Once a revolutionary base during the Vietnam War, an extensive forest area in the Central Highlands Province of Lam Dong is today almost unrecognizable due to robust socioeconomic development over the past decades.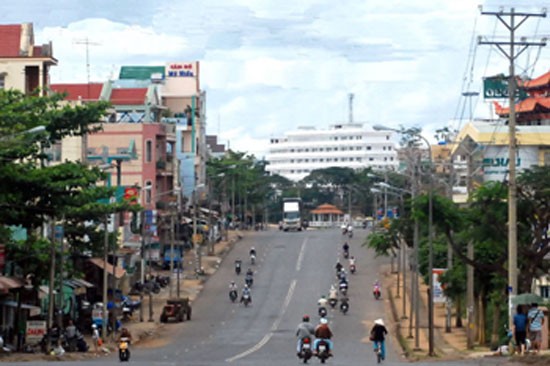 A view of Bao Loc town in Lam Dong Province. Since times of war, the area has made great strides in socioeconomic development. (Photo: SGGP)
Recalling the area's history as a resistance base during the war, Lam Dong Province Party Committee Secretary Tam Canh said the province was not a fierce battlefield, but it played a significant role in connecting the Central Highlands with the south-central region and North-South gallery.
In war years, officials and soldiers stayed close to villages in the area to wage a protracted resistance war against the US imperialists.
Local residents, for their part, assisted the revolutionary forces by supplying food as well as transporting ammunition.
After Lam Dong and other Central Highlands provinces were liberated in March 1975, the revolutionary army continued to face the anti-revolutionary force, Fulro, set up by the US. Many officials and soldiers had already died protecting the fatherland, but many more kept patient, calling on the reactionary force to surrender.
By 1978, the FULRO issue was basically solved, bringing stable public order as socioeconomic conditions gradually improved.
After the State's subsidization mechanism was removed in 1986, private businesses together with State-owned farms and businesses created more products for society, further boosting socioeconomic development.
Green hills and mulberry terrace-fields flourished throughout the area.
Well-off villages
Today, the area is home to several communities and has been modernized greatly since wartimes.
Lien Nghia town in Duc Trong District is filled with bustling markets, shops and students wearing school uniforms.
Another district in the area, Di Linh, has paved roads stretching from the district center to surrounding communes.
In Gung Re Commune, there is a small ethic village called KaMing, famous for its tradition of encouraging studiousness. It is one of six district villages with most residents being ethnic minorities.
A village resident named Ka Doi said that four out of seven of her children had graduated from universities and colleges. They are now working at district and province agencies.
It was very difficult for her and her husband to let their children go to school, she said, but they tried their best with the hope that their children would have a better life.
The village head, K'Som, said proudly that the community now has 23 students attending universities and colleges. In total, over the last several years, hundreds of local students have gone on to higher education.
In the communes of Tan Chau and Tan Thuong, meanwhile, more than 700 villas are now occupied by residents.
Commune Party Committee Secretary Nguyen Cong Lanh said that Tan Thuong has 1,231 households with 90 percent of them being ethnic minorities.
Per capita income is VND14-15 million and just 7.4 percent of the households are poor. Most residents in the area cultivate coffee with each household's output hovering around 4-40 tons per crop.
All children attend school in the commune and many of the students also go on to universities, colleges and vocational schools.