A "super-intensive" farming model, which raises white-legged shrimp in greenhouses in the Mekong Delta province of Bạc Liêu, has expanded after generating high profits.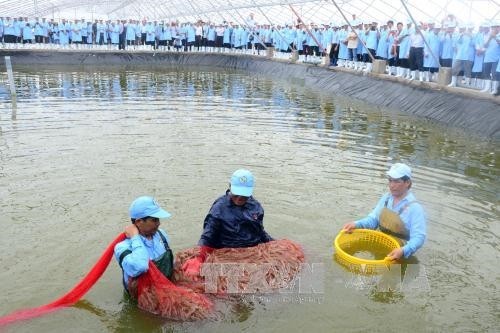 Farmers harvest shrimp bred under a super-intensive shrimp farming model in greenhouses in Bạc Liêu Province. — VNA/VNS Photo Nguyễn Thanh Liêm
The Hải Nguyên Company in Bạc Liêu City was the first company using the model in the delta, which is more environmentally friendly than traditional shrimp models.
In 2011, when shrimp disease outbreaks occurred on a large scale in the delta, Đinh Vũ Hải, the company director, chose to use the new breeding model. 
The shrimp ponds, which are protected in greenhouses, are equipped with airlift pumps in the pond beds and fans at the pond surface, to provide oxygen for the shrimp. The pond beds are covered with plastic sheets.
The density in the so-called super-intensive farming models is 200-250 shrimp per sq.m, while density is 100-150 shrimp per sq.m in intensive models. 
After a farming period of 75-90 days, the white-legged shrimp are harvested, usually with yields of 60-70 tonnes per hectare.
With a 60ha-farming area, Hải's company harvests about 900-1,000 tonnes of white-legged shrimp a year and earns profits of VNĐ100 billion (US$4.5 million).
The model requires high investment costs, but it reduces pollution as it does not use antibiotics and chemicals, according to Hải. 
Many farms and other companies are using the model in Bạc Liêu and other provinces. 
The Trúc Anh Production and Trading Company Limited in Bạc Liêu's Vĩnh Trạc Đông, for instance, raises white-legged shrimp under this model.
Lê Anh Xuân, director of Trúc Anh, said his company used probiotics to breed shrimp.
"Our company has piloted the model on an area of 1 ha with investment capital of VNĐ10 billion ($450,000)," he said.
Last year, the Việt-Úc Group, Việt Nam's leading supplier of shrimp fries, began its project of super-intensive farming of white-legged shrimp in greenhouses in Bạc Liêu and achieved good results.
The group now farms white-legged shrimp using this model in Bạc Liêu and the central province of Bình Định. It is expected to expand to 1,000ha by 2018.
The Việt-Úc Group has also helped farmers in Bạc Liêu and Cà Mau provinces and HCM City to breed shrimp.
Trần Ngọc Hải, deputy head of Cần Thơ University's Fishery Faculty, said one of the best features of the model was that temperatures in ponds could be controlled, which is important for raising shrimp.
Normally, when there are heavy rains or hot sunshine, the temperature in ponds will change rapidly, affecting the health of shrimp.
In addition, the super-intensive model also reduces pollution and the spread of germs from the ponds.