Lieutenant General Do Ba Ty- Chief of Staff of the Vietnamese People' Army on Thursday began his visit to the US on the invitation of Chairman of the Joint Chiefs of Staff of the US Gen. Martin E. Dempsey.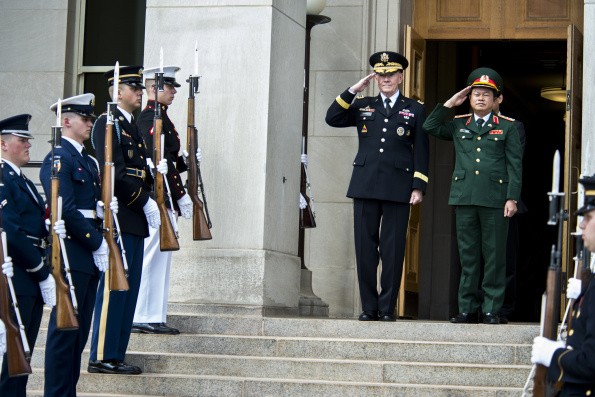 Lieutenat general Do Ba Ty (R) is welcomed by Gen. Gen. Martin E. Dempsey at the Pentagon on June 20, 2013. (Photo: courtesy of the US Navy)
At the talk with Gen. Martin E. Dempsey Lieutenant Do Ba Ty appreciated the Vietnam-US relationship in frame of "Constructive friendship cooperative partners based on equality and mutual respect.
The two side relations have remarkably developed for two nations' interests and contributed to peace and cooperation in the world, he said.
The Lieutenant General said that Vietnam attached great important to developing comprehensive relations with the US, including defense ties.
The visit of the high-ranking delegation of the Vietnamese People's Army to the US is a chance to enhance friendship and mutual understanding between the two countries' armies, promoting defense cooperation of the two sides, he added.
Gen. Martin E. Dempsey said that the visit of the Vietnam's high-ranking military delegation was an important milestone in bilateral relations in general and in defense ties in particular.
He said that he supported the idea issued by Vietnam on establishment of humanitarian demine expert group in frame of ASEAN Defense Ministers Meeting Plus (ADMM+).
He also supported peaceful solutions for resolving disputes under international laws, including UN Convention on the Law of the Sea in 1982.
He also expressed his hope that China and ASEAN countries will soon complete the Code of Conduct in East Sea.