Almost one million students sat for their first high-school graduation examination in Literature and Chemistry on June 2, reported the   Ministry of Education and Training.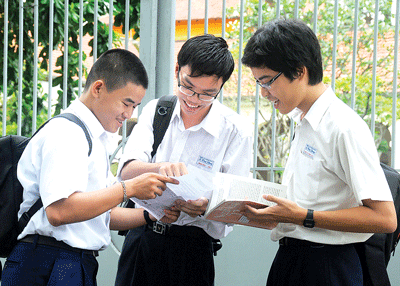 Students in Le Hong Phong look happy after giving their exam (Photo: SGGP)
On the first day of their final graduation exam, many students expressed satisfaction after completion of their paper.
Students in Hanoi said the examination was being held during ideal weather. They were very happy with their literature and chemistry test paper as the questions came from their textbooks.
As the tests appeared to be quite easy, students did not use examination cheat sheets and threw the 'small bits of paper' right outside the examination halls!
In Ho Chi Minh City, Hua Ngoc Thuan, deputy chairman of the People's Committee, called on students of Tran Dai Nghia High School for gifted students to encourage them in their exam.
As the first exam took place on a Saturday, the streets were relatively empty and there was no traffic congestion to hinder students to go to the exam centres.
Students were happy because they thought the tests were far easier than the mock tests conducted by their schools. Trac Van, a student of Hung Vuong High School said he did quite well in his literature test; however, he thought it was a problem for those who learnt by hearts.
Teachers said that even average students could finish around 60 per cent of the questions on the test paper.
Of the nearly one million students, full-time high school students accounted for 856,271 and the remaining 107,300 students were from continuing-education, according to the Educational Testing and Quality Assessment Department.
This year, many elderly students from the mountainous district of Nam Tra My in the central province of Quang Nam, from the ages of 40 to 50, sat for the graduation exam. They all came from indigenous ethnic minority groups, desiring to acquire a degree to put in their work resume.
Member of the Red Cross in the central province of Thua Thien-Hue giving free meals to students (Photo: SGGP)
The oldest student was Ho Ngoc Vien, 52, from the Ca Dong ethnic minority group and presently working in the state administration in Tra Mai Commune, who said he could not complete the literature test paper.
Elsewhere, some students could not take the examination as they had an accident while on their way to the examination centres.
Students of Can Thanh High School in Can Gio District of HCMC had to sit for their exam in An Nghia High School, 30 kilometres from their homes, for which the school hired a 10-seater sedan to take them to the exam venue.
The People's Committee of Vinh Loi District in the Mekong delta province of Bac Lieu gave VND300,000 (US$15) to students from low-income families as expenses for the three day examination. In the province, local governments provided boats to take students to school locations.
Members of the Red Cross in the central province of Thua Thien-Hue supplied free meals and shelter for 1,500 students coming from far off locations.