The central island district of Ly Son has added more high-speed boat trips between the island and Quang Ngai province's Sa Ky port.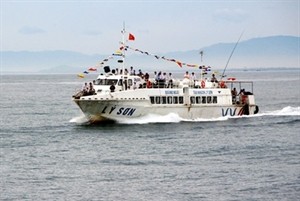 A high-speed ferry transports 150 passengers from mainland to Ly Son Island in central Quang Ngai Province. More high-speed boat trips have been added to carry more passengers to the island (Photo: VNA/VNS)
Before the change, two boats travelled from the island to Quang Ngai every day, transporting about 1,500 passengers.
The district People's Committee has now added two extra boats every Monday, Wednesday, Friday and Sunday, bringing the total to four for those days, said Pham Thi Huong, the vice chairwoman of the district's People's Committee.
Last year, the committee opened a new sea route connecting Ly Son Island to An Binh Islet, about three miles away. Two vessels carry 100 passengers per day. Islanders used to take their own boats to the islet.
The committee also unveiled a 400 million VND (19,000 USD) reception area spanning 200sq.m at Ly Son port.
Ly Son Island, a tranquil destination 30km off the province's coast, is home to about 2,100 residents. Most make their living fishing, and farming garlic and spring onions.
Later this month, a 652.5 billion VND (31 million USD) power installation project will bring electricity to the island for the first time.
Centuries-old houses and the Am Linh Pagoda, built in the 17th century during the Nguyen dynasty, make the island a hot spot for adventure travellers.