Construction of highways in Vietnam is found 1.5-2 times costlier than in other Asian nations like Thailand, Malaysia, China and Indonesia partly due to slow implementation resulting in price escalation.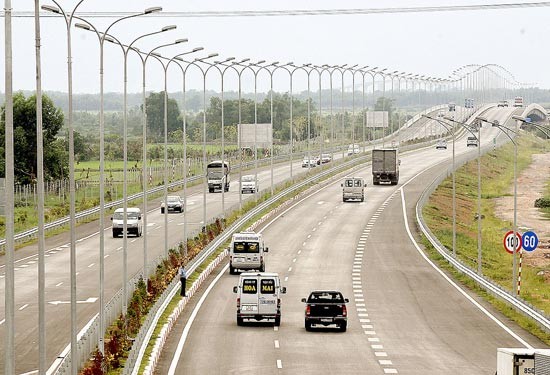 HCMC – Long Thanh - Dau Giay Highway in Dong Nai Province (Photo: SGGP)
Many projects have run behind schedule because of sluggish site clearance. One of them is Thang Long Highway which broke ground in 2005 with the total capital of VND5,379 billion.
Site clearance problems have made the project's implementation too slow and rocketed investment cost. It spends around VND250 billion to build a kilometer of the highway now, up from VND180 billion in 2005.
Two years later, the Ministry of Transport had to increase the Thang Long project capital from VND 5,379 to VND7,527 billion.
And another is Cau Gie-Ninh Binh Highway which was projected in 1999 and approved in 2005 due to design issues.The delay caused investment capital rocket from VND3,734 billion to VND8,974 billion for every 50 kilometers of the road.
HCMC – Trung Luong Highway costs US$9.9 million per kilometer. The project's initial investment capital was VND6.5 trillion, which has been adjusted to VND9.8 trillion.
It is expected to cost US$18.3 million for building of a kilometer of HCMC-Long Thanh-Dau Giay and US$28.2 million a kimometer of Ben Luc-Long Thanh Highway while a highway kilometer is reported to cost US$8 million in the US and US$6 million in China.
According to Nguyen Xuan Thanh, director of Fulbright Economics Teaching Program in Ho Chi Minh City, one of reasons is that highway construction in Vietnam is dependent on loans.
Official Development Assistance funded projects are using experts, consultants, contractors as well as machines and equipment of ODA suppliers. As a result, construction costs are usually higher than practice.
Weak project management can also slow down the projects' progress and escalate related costs, he said.
After inspecting highway projects, Minister of Transport Dinh La Thang has said that weak terrain makes construction of highways 3-5 times costlier than normal roads.