Seven people died and thirty eight were injured in the early hours of Monday when a bus traveling along National Highway 1A in Dong Nai Province crossed the median strip and caused a massive pile-up.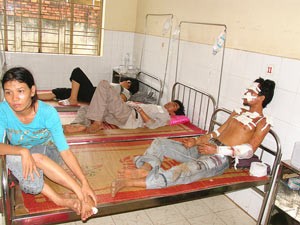 The victims of the accident in a hospital in Dong Nai province

The accident happened in Hung Loc Commune, Thong Nhat District and is blamed on the driver, one Vo Duy Tung, who was apparently trying to make a dangerous turn when his 46-seat vehicle plunged to the left side of the road and hit a motorbike coming in the opposite direction before taking out a bicycle and three more motorcycles.

The bus then turned sideways and was rammed by a similar bus, forcing it against a power pole where it came to rest. The other bus was then hit by a Mercedes minibus traveling in the opposite direction.

An emergency crew raced to the crash and began cutting free the survivors who were trapped inside the wrecked vehicles. In all, 38 of the living were taken to hospitals in the area and treated mostly for head, chest and limb injuries.

Members of the Thong Nhat District Party Committee and the Thong Nhat District People's Committee inspected the accident scene and visited the victims' families. Each family of a dead person received VND1 million (approximately US$62.5) and each injured person was given VND500,000 (approximately US$31.2).

Vo Duy Tung later told police that he hadn't fallen asleep at the wheel but did admit to making the turn too fast. Lieutenant Colonel Trinh Sang of the Dong Nai Police Department said the driver would face trial soon.