Contractors responsible for construction delays in the project to expand National Highway 1A should be replaced immediately.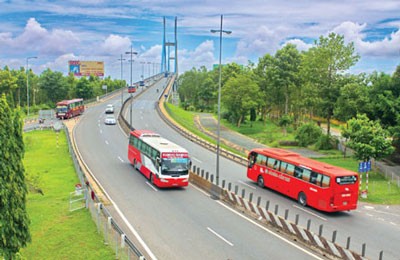 Traffic flows on National Highway 1A in the Mekong Delta province of Vinh Long. Site clearance is considered a key issue in the highway's expansion, which is scheduled to be completed by 2016 (Photo: VNS)
At a conference in Da Nang yesterday, Deputy Prime Minister Nguyen Xuan Phuc urged the transport sector to take such drastic actions if any construction delays arouse. The conference focused on site clearance and safety issues related to the country's two major highway construction projects.
"Site clearance for the projects is a major issue and a key factor in meeting the completion schedule by 2016," Phuc said.
He also urged leaders from 23 provinces and cities, as well as contractors, investors and officials from the ministry of transport to find more effective methods for site clearance to ensure that the two projects are completed by 2016.
"Site clearance, compensation and resettlement in the provinces and cities will be crucial to helping ensure that the two projects are finished on time. These are complicated issues and require hard work from local authorities, contractors, investors and the ministry of transport," Phuc said.
"The deadline for the completion of the two projects is fixed. We have only three years to reach the target, so preparations for site clearance and the issues of resettlement and compensation must be completed first."
He also criticised some provinces and contractors for carrying out their projects too slowly, pointing to the case of Quang Tri Province, which had to spend five years to complete only five of the 13km section on National Highway 1A, while Ha Tinh Province completed a similar project much faster.
The deputy Prime Minister asked leaders from the provinces and cities to make every effort necessary to catch up to the proposed time schedule.
Minister of Transport Dinh La Thang said that involvement of local authorities would be crucial for creating the conditions necessary to complete the projects smoothly.
"Solving the delays in site clearance is the primary responsibility for local authorities. I ask the local authorities to create priorities for contractors, investors and bidders and to ensure that they carry out their projects on time," Thang said.
National Highway 1A runs from the north to the south of the country. An expansion of 672km of its 1,887-km length is expected to be completed by the end of this year. The 663-km Ho Chi Minh Highway Project through the Central Highland region has a budget of VND533 billion (US$25.1 million) and requires 220ha of land and the resettlement of 620 households.