At a meeting held on Wednesday, Dinh La Thang, Minister of Transport asked foreign contractors of three of the country's biggest traffic projects to speed up construction work which was lagging far behind schedule.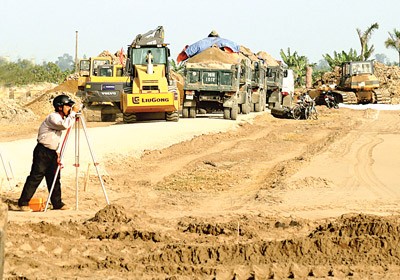 Hanoi-Hai Phong Highway is running far behind schedule (Photo: SGGP)
The projects include Noi Bai-Lao Cai Highway, HCMC-Long Thanh Dau Giay Highway and Hanoi-Hai Phong Highway of which 90 per cent are under contract by South Korean and Chinese companies like Posco, Keangnam, Doosan and Gauxing.
According to the Transport Engineering Construction and Quality Management Bureau, the Noi Bai-Lao Cai Highway broke ground in September 2009 but only 27 per cent of the project is complete; the Hanoi-Hai Phong Highway began construction in May 2008 but only 20 per cent has been complete; and the progress of HCMC-Long Thanh Dau Giay though better is still lower than expected.
Mai Tuan Anh, director general of Vietnam Expressway Corporation, said that foreign contractors have not fully mobilised their human resources and facilities to speed up the construction work.
They have also failed to implement their pledge on their financial support, completely depending on capital advanced from the investors, and unable to manage their sub-contractors.
Keangnam is so weak that they have only completed 5 per cent of the bids A4 and A5 of the Noi Bai-Lao Cai Highway project.
Representatives of Gensia, the Spanish supervision and consultancy unit, shared the same opinion and added that the contractors are not experienced enough to implement their contracts, thus running behind schedule.
Meantime, the contractors blamed the slow progress on natural conditions of Vietnam, weak ability of sub-contractors who are domestic units and on site clearance problems.
Disagreeing with them, Minister Thang stressed that they have to take responsibility for the projects' progress.
He refused to extend the execution time-limit and asked them to complete Noi Bai-Lao Cai and HCMC-Long Thanh Dau Giay by 2013 and Hanoi-Hai Phong project by 2014.
Failing to do that, they will be held responsible under penalty clauses in their contracts.
He would directly handle problems to help the contractors build the highways on schedule. Besides speeding up construction work, they must ensure the quality and safety of the projects as well, he added.