National Highway 91B is barely one year old and is already full of potholes and depressions, along the Mekong Delta city of Can Tho.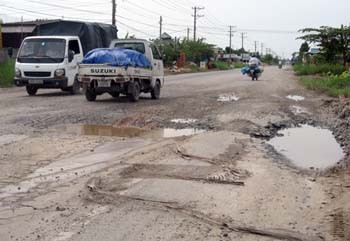 Some damage seen on National Highway 91B (Photo: SGGP)
The highway traverses across three districts of Ninh Kieu, Binh Thuy and O Mon in the Mekong Delta, covering a 16 kilometre stretch. It was opened to traffic in June last year, having taken over ten years to build at a cost of VND455 billion (US$22 million).
As per an independent report by the Southern Institute of Transport Technology, heavy vehicular traffic, beyond the expected load sanctioned for the highway, has been cited as the reason for damages along Highway 91B.
Highway engineers had not foreseen such heavy increase of traffic on this route. Besides, the highway has been constructed without a drainage system and local residents have built houses on either side of the road on higher ground than the highway. The excessive rainwater thus just flows onto the highway road and stagnates there, causing severe damage to the road.
The highway road surface has sunk by 25-30cm, which makes it only 20-30cm above the underground water table. As a result, the underground water table absorbs the water from the road surface, weakening its foundation base.
Le Ming Truong, deputy director of the Management Board for Construction Projects in Can Tho City has proposed to the Ministry of Transport as well as to the Directorate of Roads in Vietnam to ban heavy container trucks and other heavy-duty vehicles from plying the length of Highway 91B and to speedily build a drainage system, to resolve the problem without delay.