A mild rainfall yesterday at dawn caused the tunnel on Thang Long Highway in Hanoi to turn into a rivulet.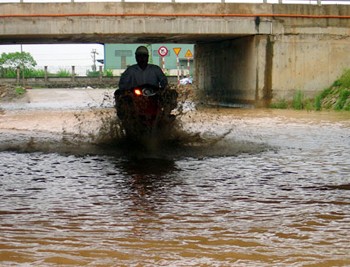 Rain floods tunnel of Thang Long Highway on May 23 (Photo: Hanoimoi)
Traffic was disrupted due to flooding in the tunnel. Since 5 am, workers used two pumps to drain out the water but several parts were still under 30-40cm of water.
The worst inundated area was the tunnel section in An Khanh Commune of Hoai Duc District. Many vehicles broke down and had to turn back.
According to Tuoi Tre Newspaper, a member of the management board of the Thang Long Highway Project blamed the flooding in the tunnel to the incomplete drainage system.