The French School of the Far East (EFEO), an institute dedicated to studying Asian societies, gave an Honourary Doctorate degree to Historical Professor Phan Huy Le.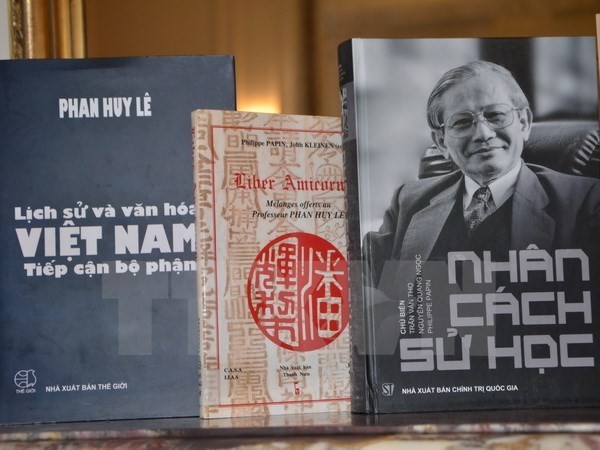 Professor Phan Huy Le's books introduced at the ceremony (Photo: VNA)
Vietnamese Ambassador to France Nguyen Ngoc Son received the title on Le's behalf at a ceremony in Paris held on May 17.
In his letter to the EFEO, Professor Le expressed his honour to receive the degree, saying that it encourages him and his colleagues to continue research and management of ancient documents in Vietnam.
At the ceremony, EFEO Director Yves Goudineau spoke highly of Professor Le's contributions to Vietnamese history, noting he deserved the Honourary Doctorate title thanks to his significant scientific research and spirit of international cooperation.
Renowned for 500 research works, especially studies on Vietnamese rural society and the relations between Vietnam and the Southeast Asian region, Le has made concerted efforts to preserve the values of Vietnamese heritages, he said.
He added that the Vietnamese historian is admired for his ability to combine traditional and modern research methods.
Vietnamese Ambassador to France Nguyen Ngoc Son thanked the EFEO for praising Professor Le's research while highlighting the school's contributions to the development of social science and humanity research, personal training and activities to preserve heritage in Vietnam.-VNA