HOI AN, Sept 30, 2009 (AFP) - Hundreds of years of history have survived in the pastel-coloured old buildings of Hoi An, which have managed to outlast wars and numerous natural disasters.
But the historic town, whose streets are normally packed with foreign tourists, on Wednesday was flooded by about three metres (10 feet) of water and could be facing its biggest disaster in a decade or more, officials said.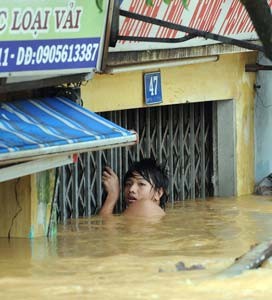 A man tries to get in his flooded house following the passage of the Typhoon Ketsana in on September 30, 2009 (AFP photo)
The picturesque narrow streets of tightly-packed old temples, shophouses, craft shops and restaurants were submerged in filthy brown water that some foreign tourists waded through with their belongings.
"This flooding might be bigger than the historic floods in 1999. We think the water could reach even 3.5 metres," said Nguyen Su, the Party chief in the town which UNESCO named a World Heritage site a decade ago.

The old quarter was cut off and accessible only by boat. A major bridge linking the tourist area to another part of town was cracked, forcing people to cross in single file, an AFP reporter saw.
Hoi An, a former trading port dating from the 15th century, is along the coast in central Vietnam near the heart of the area devastated on Tuesday by Typhoon Ketsana.
One-third of the town has been inundated, said Le Van Giang, president of the Hoi An People's Committee, or local government. He said the flooding could even exceed 1999 levels and match that of 45 years ago.
"We didn't know a typhoon was coming so we were stuck here," said Jenny Milton, a German tourist who had just escaped by boat from the old quarter where the first floor of her hotel had been flooded.
"People were very nice. We still had coffee and food and they organised stuff so we could get out," she said.
Su, the local official, estimated about 6,000 Vietnamese and foreign tourists remained in the town but he said all had been moved out of the flood zone.
"I ensure there are no more foreign tourists in flooded areas," Su said.
Tran Thanh Hai, a visitor from Ho Chi Minh City, said the water poured into his hotel "very quickly".
Local residents said water had reached halfway to the ceiling on the ground floor of their homes.
"We are used to this kind of flooding but this one is worse than in 2006," said Nguyen Thi Huong, 59, who was shopping in the local market, where some prices had doubled.
A local policeman was organising boat trips to deliver food and water to residents still stuck in the old quarter.
"Many are still there, to look after their houses. They are all on the second floor," said the officer who would not give his name.
Others were trapped on the metal roofs of their homes until soldiers arrived by boat to rescue them.
Su, the local official, said the town's historic old houses had been reinforced ahead of the rainy season and officials were still making efforts to protect them.
"We are trying our best but we don't know what will happen," Su said.