The restoration of some historical sites to honor the Hoang Sa Bac Hai (North Sea) fleet, which patrols the Hoang Sa (Paracel) and Truong Sa (Spratly) archipelagoes, is complete, the Quang Ngai Province Department of Culture, Sport and Tourism said.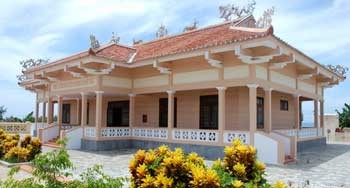 Hoang Sa fleet museum on Ly Son Island, Quang Ngai Province (Photo: Tuoi Tre)
It cost around VND15.3 billion (US$860,000) to renovate an exhibition house, rebuild the An Vinh communal house and a temple dedicated to Pham Quang Anh, head of a Hoang Sa militia under the Nguyen Dynasty, and install the Hoang Sa monument.
The 30-ton monument, a statue made of granite, has three men, including the head of a Hoang Sa militia in royal costume, a bare-chested man shouldering a fishing net, and a man dressed in an overcoat.
They departed to reassert Vietnam's sovereignty over both the Paracel and Spratly islands.
On the occasion, the Quang Ngai Museum put on display more than 100 objects and paintings and photos of naval troops of the Hoang Sa army who sacrificed their lives defending the islands 300 years ago.
Other displays honoring the Hoang Sa fleet will be held by the department in Quang Ngai town and its surroundings.