The Viet Nam Administration for HIV/AIDS Control (VAAC) under the Ministry of Health signed an agreement with Family Health International on July 10 to provide HIV/AIDS prevention, care, treatment, and monitoring programs across several provinces in Viet Nam.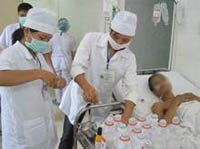 Medical staff treat HIV patient
The memorandum of understanding includes commitments to provide biological and behavioral surveillance, training for monitoring and evaluation, counseling and testing at Bach Mai Hospital, and programs for comprehensive HIV prevention, care and treatment throughout seven provinces. 
The project, supported by the U.S. President's Emergency Plan for AIDS Relief through the U.S. Agency for International Development (USAID), begins this year and runs through 2010.
This project builds upon USAID's partnerships with numerous international and local nongovernmental organizations to implement HIV/AIDS programs in Viet Nam that support the national government's strategy. 
By working with key partners, USAID's integrated approach capitalizes on its partners' expertise and builds local capacity, thereby maximizing impact and long-term sustainability of the program.