Tran Anh Tuan, deputy director of Ho Chi Minh City's Centre for Human Resource Forecasts and Labour Information, spoke to Phu nu Viet Nam (Vietnamese Women) newspaper about employment this year.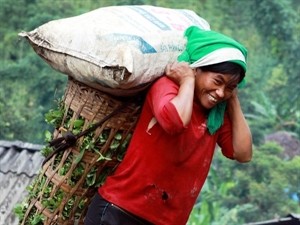 (Photo:VNA)
In your opinion, what were the difficulties facing the labour market, particularly for female workers, in 2013?
In the context of economic slowdown, many Vietnamese enterprises went bankrupt, while the remainder had to restructure their operations.
The labour market is now developing along the lines of cutting staff and giving priority to high-quality talent with strong skills, including management skills for those filling senior management positions.
Some recent surveys showed that the percentage of female employers in our country is much lower than that of their male peers. The majority of female employees are working under special circumstances: They can only work at seasonal jobs with long working hours; low pay; and many risks, especially for jobs in travel, catering, or small trade services.
In 2013, many enterprises refused to accept female workers, or they dismissed female workers who were pregnant or who had infants to look after.
Some enterprises even came up with a ridiculous requirement for their labour contracts, forcing employees to promise not to have a baby within the first two years of the contract.
* Don't you think such problems will occur in 2014 as well?
It has been projected that in 2014, there will be 265,000 vacant positions in Ho Chi Minh City, of which 130,000 of them will be new positions.
In our country, although we have numerous women employees, only a small percentage of them have received training.
That's the key factor preventing them from getting good positions, while the country is on the path of modernisation, industrialisation, and international integration.
It has been forecast that 2014 will remain a difficult year for our economy. So, female workers will continue to face many challenges. However, Vietnam is experiencing many changes, and of course, these changes will create many opportunities for job seekers, particularly in small and medium enterprises. And if women know how to seize these opportunities, they will be winners.
Vietnam has set a target to have about 30 percent of employers' roles filled by women by 2015, and 35 percent by 2017. These targets are an indication that the government wants to have more women joining the labour force.
* What about employment for disadvantaged women?
At present, some 35,000-40,000 poor women living in Ho Chi Minh City are desperate to find jobs. Most of them are disadvantaged women, and they can only work at seasonal and/or low-paid jobs. Since they were born into poor families, they didn't have the opportunity to get a proper education. This is a disadvantage when it comes to training high-quality talent for a developing nation like Vietnam.
In 2014, the seasonal employment tendency will be popular among many enterprises in Ho Chi Minh City. So, this is an advantage for many women. With diverse employment positions opening in food processing plants, packaging paper enterprises, aqua product processing enterprises and so on, disadvantaged women will have a wider choice of jobs that suit their availability, capacity, and expertise.
* What measures should we adopt to generate more jobs for female workers in the future?
The measures must be comprehensive. The first measure is to develop different vocational methods of providing different types of vocational training, including short and long-term courses.
The next measure is to create a link between enterprises and vocational training centres as well as enforce the Law on Gender.
Employment service centres affiliated with the City Women's Union should further enhance their role by helping women to find employment or introducing them to vocational training centres.
In addition, the centres should conduct regular surveys to find out what the disadvantaged women need, so they can help them more effectively.