When reviewing the status of Tet bonus for this year at a conference on Thursday, the Ministry of Labor, Invalids and Social Affairs said that foreign direct investment businesses in Ho Chi Minh City were offering the highest Tet bonus to their employees.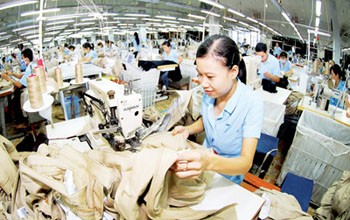 A garment company in Ho Chi Minh City (Photo: SGGP)
Ho Chi Minh City is leading with the highest Tet bonus, followed closely by Can Tho City, Hai Duong, Binh Duong and Ba Ria-Vung Tau Provinces.
Meanwhile, the highest Tet bonus in Hanoi is just VND67milllion.
 
Tong Thi Minh, Head of the Department of Wages says the average Tet bonus this year is VND3.22 million per person, an increase of 120 percent over last year. 
Solar New Year rewards were lower at VND928,000 per person, accounting for only 88.6 percent over last year.
 
Besides Tet bonus, the ministry also announced wage levels of employees for 2011. Average wages of employees in 2011 were VND3.84 million per month, 19.6 percent higher than the previous year. 
 
Those working in State-owned businesses received the highest average wages of VND4.41 million per month, followed by businesses with state capital, at VND3.88 million and the foreign direct investment sector with VND3.63 million.
The lowest level belonged to the private sector with VND3.32 million per month.
However, the management staff in the foreign direct investment sector is paid higher than in State-owned companies.
Difference between highest and lowest wage levels in the foreign direct investment sector varies 19.3 times. This is just 8 times in State-owned businesses and 5.5 times in private companies.