Ho Chi Minh City environmental experts and officials have proposed limiting the use of plastic bags by supermarkets to reduce pollution in city waterways.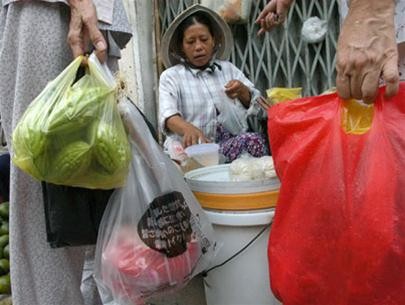 The use of plastic bags should be banned in supermarket and trading center as sson as possible to reduce pollution
Experts spoke on August 26 at a seminar in HCM City held by the city's Department of Natural Resources and Environment, the HCM City Waste Recycling Fund and the UN Economic and Social Commission for Asia and the Pacific (UNESCAP).
The city fund and the UN, in a joint survey, said their findings showed that restricting the use of plastic bags in supermarkets and trading centres should be done as soon as posible.
Every month the Maximark chain uses 10 tonnes of plastic bags and the Big C supermarket 20 tonnes. More than 30 tonnes of plastic bags are used in supermarkets and other shops every day in the city, the survey found.
Ms. Kim Ae Seon of the Korean Environmental and Resources Corporation of the Republic of Korea (RoK) Environmental Ministry said the use of instant use containers at fast food restaurants or coffee shops and other non-biodegradable products needed to be controlled.
Kim said many customers in RoK still preferred plastic bags instead of paper bags.
Associate professor Doctor Bui Cach Tuyen, deputy general director of the city's Environmental Department, said raising awareness among consumers was critical and that a media campaign was needed.
Many residents still throw plastic bags in rivers and canals, Tuyen added.
He suggested a tax on plastic bags used in supermarkets and new policies on encouraging waste collectors to recycle.
Le Van Khoa, head of the city's recycling fund, said a fee should be charged to customers who want to use plastic bags.