A Ho Chi Minh City declaration that confirms the solidarity between members of the Mekong River Commission (MRC) basins was issued at the end of the body's summit in the city on April 5.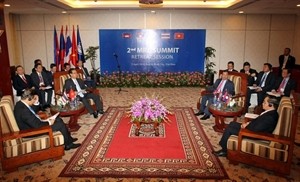 (Photo: VNA)
The document also outlines their commitment to furthering cross-border cooperation in sustainable management and utilisation of water, food, and energy resources in the transboundary areas.
It focuses on expediting the commission's procedures, revising and updating strategic plans, and researching the impact of climate change. It also pledged to undertake preventive measures mitigating risks towards the river's ecological system.
The MRC members, namely Vietnam, Cambodia, Laos and Thailand, also agreed to increase work together with their dialogue and development partners, and welcomed regional and global initiatives in the field. They hoped to receive more support and collaboration from their peers during the process of carrying out an action plan for 2016-2010 period.
Chaired by the host country's Prime Minister Nguyen Tan Dung, the second summit drew senior officials from the four MRC members along with the two partner countries China and Myanmar. Representatives of development partners, observers, and ASEAN Secretary General Le Luong Minh were also in attendance.
Speaking at the plenary session of the summit themed "Water, Energy and Food Security in the context of climate change for the Mekong River Basin", Prime Minister Dung highlighted the significance of the event, which aims to prepare for the 20th anniversary of the Agreement on Mekong Cooperation next year.
He said Vietnam attaches much attention to the stable and sustainable development in the basin as well as climate change response, and hopes to boost cooperation with other countries in the region to promote the international role of the commission.
Participants reviewed the implementation of the 2010 Hua Hin Declaration, deliberated on opportunities and challenges, and outlined measures to continue strengthening the management, sustainable exploitation and development of the river in the coming time.
On April 2-3, Vietnam in conjunction with the MRC Secretariat, held an international conference themed "Cooperation for Water, Energy and Food Security in Transboundary Basins under a Changing Climate".