the Southern Transport Engineering Design Incorporated (TEDI South) reported on the construction of Sai Gon – My Tho railway project to Ho Chi Minh City People's Committee on May 10, 2006.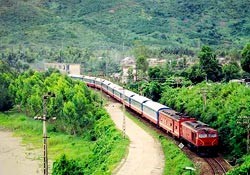 The construction of such railway system will contribute to socio-economic development of the localities

Accordingly, the railway system of 87 kilometers in length, of which 57 kilometers are dual-track railroad and 30 kilometers are single-track railroad, will be constructed in 2008.
The system starts from Song Than Station, adjacent to Song Than Industrial Zone, passing Ho Chi Minh City and the southern provinces of Binh Duong, Long An to the terminal in Tien Giang province. The maximum speed is 120 kilometers per hour. The total investment reaches VND7,072 billion.
Once completed in 2012, the system will meet the demand of transporting passengers and goods from neighboring urban areas coming to Ho Chi Minh City to travel nation-wide and abroad.
Some questioned whether it would be better to build a railway system of 1.435 meters in width instead of one meter as planned in the project.