A high level delegation led by Ho Chi Minh City Party Secretary Le Thanh Hai arrived in Osaka for a seven day official visit to Japan from October 10-16.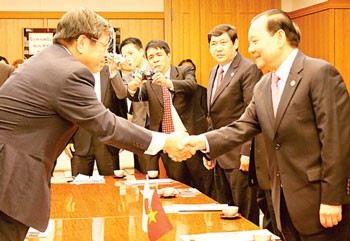 Ho Chi Minh City Party Secretary Le Thanh Hai (R) meets Mayor of Sakai City, Osami Takeyama. (Photo: Sggp)
The delegation held a working session with the Mayor of Sakai City, Osami Takeyama. Mr. Le Thanh Hai hoped that Ho Chi Minh City, Osaka Province and Sakai City will strengthen and boost closer ties and cooperation in various fields like Science, Technology and Education.
A growing number of Sakai City enterprises have business expansion plans and investments in Vietnam, said Mayor Osami Takeyama.
On the same day, the delegation visited the Vietnam Consulate General in Sakai City. The HCMC Party Secretary expressed his appreciation of the outstanding contributions made by the Consulate's staff members, Vietnamese organizations and individuals in fostering the development of a fruitful relationship and cooperation between the two countries.
He also asked the Consulate General to create advantageous conditions for Japanese investors to cooperate with Vietnamese businesses in fields of mechanics, computer electronics, chemicals, agriculture and forestry.
The high level delegation also plans to visit Tokyo, Nagoya, Kawasaki and Yokohama during their week long visit.