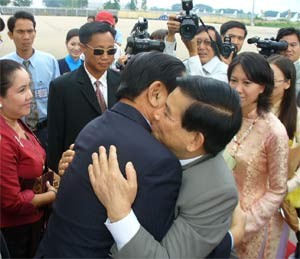 Mr.Nguyen Minh Triet warmly welcomes Mr. Choummaly Sayasone at Tan San Nhat International Airport. (Photo:T.K)
In the early afternoon of June 21, Lao President and People's Revolutionary Party General Secretary Choummaly Sayasone and his wife arrived in Ho Chi Minh City, continuing their official friendly four-day visit to Viet Nam.


A brief welcoming ceremony was held at Tan Son Nhat International Airport, with the participation of Mr. Nguyen Minh Triet, Politburo Member and Secretary of the Ho Chi Minh City Party Committee, and many representatives of the Municipal Department of Foreign Affairs.
This is Mr. Sayasone's first visit abroad in his new post as General Secretary of the Lao People's Revolutionary Party and Lao President.
Also on the same day, Mr.Sayasone will visit Tan Thuan Export Processing Zone, the first one of its kind of Viet Nam and will call at the Reunification Palace later in the day.