At the ceremony, Vice Director of the Municipal Culture and Information Department Vo Trong Nam said that commendation forms with many notable orders, medals, certificates of merit by the State, Government, Ministry of Culture, Sports and Tourism, the HCMC People's Committee as well as trust of agencies, museums and relic sites throughout the country have been recognition for Ho Chi Minh City Museum- City Branch during the past 40 years.
On the occasion, the Ho Chi Minh City Museum Branch in collaboration with Ho Chi Minh City University of Fine Arts kicked off a picture exhibition to propagandize 50 years of implementing the testament of President Ho Chi Minh (1969- 2019).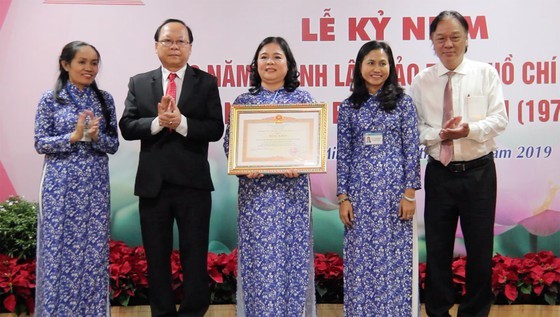 Representatives of Ho Chi Minh Museum's city branch receive a certificate of merit from the Prime Minister.

On June 5, 1911, young patriot Nguyen Tat Thanh boarded the ship Amiral Latouche Tréville to Europe to find a way to save the nation, bring liberation and independence for Vietnamese people.
In order to save his great contribution, the People's Committee of Ho Chi Minh City issued a Decision to adjust the house locating at No. 01 Nguyen Tat Thanh Street as the Memorial Site for President Ho Chi Minh.
The HCMC People's Committee issued a Decision to change "Memorial Site for President Ho Chi Minh" into "Ho Chi Minh Museum - Ho Chi Minh City Branch" on April 30, 1995.