The Ho Chi Minh road has been finished in the first phase, from Ha Tay Province in the north to Kon Tum in the Central Highlands, the Ministry of Transport said.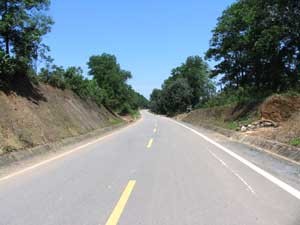 A section of Ho Chi Minh Road
According to the ministry's Road Department, which is administrating the Ha Tay-Kon Tum section, many vehicles have used the new road in recent days as good conditions allow smooth traffic.
The department has installed traffic lights and signs during the road, and has publicized the availability of the road for use so that many people can know about the new route, which is expected to reduce the load on National Highway 1A, also from the north to the south like the entire Ho Chi Minh road when it is completed.
Given the completion of the first phase, the Ho Chi Minh Road Management Unit is moving to the second phase, in which the road will extend to its full length from Cao Bang Province on the Viet Nam-China border to Ca Mau, the country's southernmost province.
The entire Ho Chi Minh road will be 3,167 km long, running through 30 provinces and cities. There are three phases to develop.
It is a two- lane way in the first phase, including anti-landslide works the section from Hoa Lac in Ha Tay to Tan Canh in Kon Tum. The second phase will turn the coverage from Cao Bang to Ca Mau. Meanwhile, in the third phase scheduled for 2010-2020, additional finish works will be added to the whole route and its sections will be upgraded to an expressway.