Celebrations of the 72nd founding anniversary of Hoa Hao Buddhist have been held in Vietnam's 15 provinces and cities with support of local authorities.
The Hoa Hao Central Managing Board said the celebrations took place on the 16 th , 17 th and 18 th of the fifth lunar month, ( In 2011 is June 17, 18, 19 th) complying with religious rituals and the State laws and embracing the spirit of solemnity, solidarity and thrift.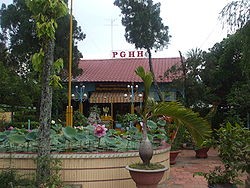 Chief pagoda of Hoa Hao Buddhist in Phu My town, Phu Tan district, An Giang province
Seventy-two years ago, Hoa Hao Buddhism was founded by prophet Huynh Phu So, a native of Hoa Hao village, Tan Chau district, Chau Doc province (now Phu My town, Phu Tan district, An Giang province).
The religion, which advocates the practice of Buddhism at home, is thriving in 15 provinces and cities from the central coastal province of Phu Yen southwards with more than 2 million followers and 358 executive committees and places of worship.
With more than 800,000 followers, An Giang province is regarded as the Holy Land of the religion.
Best conditions have always been provided for faith practices and religious activities by Hoa Hao dignitaries and followers, who have also enthusiastically participated in social and charitable activities at their localities as guided by their seniors.