The forest fire that ravaged Hoang Lien Son National Park for the last five days was brought under control on Tuesday, reported authorities in Ta Van Commune of Sa Pa District in the northern province of Lao Cai.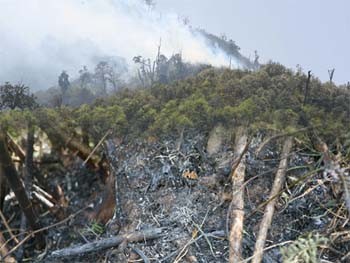 Forest fire in Hoang Lien Son National Park was brought under control after five days (Photo: Thanh Nien)
Nguyen Quang Hung, Deputy Director of the provincial Department of Agriculture and Rural Development said that the fires ravaging in the Hoang Lien Son National Park had been stamped out by 2pm Tuesday.
About 70-80 hectares of cultivated forest has been destroyed. Fortunately, the fire did not spread to the primeval areas of Hoang Lien Son forest in Sa Pa District.
On Tuesday, the People's Committees of Lao Cai Province and Sa Pa District mobilised a total of 3,000 peoples to carry water cans up an altitude of 1,700 metres to douse the flames.
 
In related news, Prime Minister Nguyen Tan Dung has sent a dispatch to relevant ministries, departments and provinces that are susceptible to forest fires; asking them to implement measures to prevent them from recurring.
Provinces in the northwestern, central, central highland and Mekong delta regions are highly vulnerable to forest fires due to current dry drought conditions.
Prime Minister Dung has instructed local authorities to clarify responsibility of individuals and organisations for any forest fires occurring in their localities.
Related article:
Forest fire spreads in Hoang Lien Son National Park