Dang Cong Ngu, chairman of the Hoang Sa District People's Committee, launched a soon-to-be-published Hoang Sa yearbook in the central city of Da Nang on Wednesday.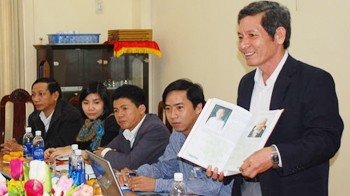 Dang Cong Ngu (standing), Chairman of Hoang Sa District People's Committee, launches the Hoang Sa yearbook in Da Nang on January 19 (Photo: Tuoi Tre)
The Hoang Sa yearbook contains hundreds of articles and images of people who lived and fought in the Hoang Sa (Paracel) Islands.
The yearbook was introduced at a meeting of veterans, who used to work in the Hoang Sa Islands including Tran Van Son, Vo Nhu Dan, Pham Khoi, Pham Xo and Nguyen Van Cuc.

They recalled the bitter and hard period when they collectively protected Vietnam's territorial borders.
Mr.Ngu thought this to be a noteworthy meeting where they could express deep gratitude to all those who had dedicatedly fought to protect the islands.
The event also expressed their appreciation to individuals and organizations who had contributed in highlighting the activities of the Hoang Sa District in 2010.