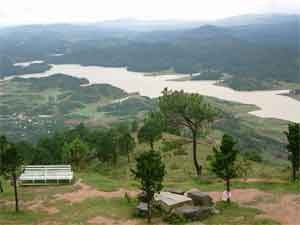 A scene from Mount Liang Biang  in Da Lat (Photo by K.K)
With Reunification Day on April 30 and International Labor Day on May 1, citizens will have two holidays in a row. Many holiday makers this year have decided head for the seaside, passing up traditional favorite Da Lat.

As of Sunday afternoon, many hotels in Da Lat still have vacant rooms for the holidays.
Travel agents blamed the loss of interest in Da Lat as holiday destination on hotel pricing policies. Some travelers fear that, as in previous years, hotel managers will take the advantage of the increased number of visitors and stop renting out rooms at their regular rate and then raise room rates.
The room rates offered by many luxury hotels in Da Lat during the holidays remain unchanged. Some have increased their rates by 20 to 50 percent.
To meet increased demand during the holidays, many Da Lat –based transport companies have decided to increase the number of bus trips from Ho Chi Minh to Da Lat and vice versa. For example, Thanh Buoi Co. has increased the number of bus trips from 20 a day to 30 a day. Phuong Trang, a Da Lat-based company, has put ten new 41-seat buses into operation.